With a background in hip hop and an admiration for electronic music, DJ Jonny Tsunami is in big favor on genre bending music. The Filipino native is known for mixing island sounds, sampling-not only pop culture, but also-internet memes, and combining them with electronic dance music (EDM) to create a genuinely unique sound.
DJ Jonny Tsunami's earliest residency was at The Youth Canteen (a teen club in Bartlesville, OK), when he was still in high school. After starting college, he soon gained a hip hop residency at Club Fusion/Vice Nightclub (OKC). After leaving Vice to explore the world of EDM, and other DJing styles and techniques, he was chosen to be the weekend resident of Kamps Lounge (OKC). During his adventures; Jonny Tsunami has teamed up with Havoc Nights, as a sponsored smoke-free artist. Tsunami is also working with Red Bull, as their campus DJ for Oklahoma. He is now studying production to make his own remixes and original tracks.
Throughout his career, Jonny Tsunami has performed with: Grandtheft, Coyote Kisses, Grimecraft, Stooki Sound, Bleep Bloop, Breath Carolina, Crizzly, Lucky Date, Ohmy, Tynvn, Kill The Noise, Nadastrom, Neon Indian, Mantis, Sophia Lin, Kissy Sell Out, The Floozies, Caked Up, Tommie Sunshine, Willie Trimmer, Raging Pandas (Sno White + Kayla Kruz), Bare, Treasure Fingers, Gosteffects, AFK, Kids At The Bar, Crystal Vision, Alex Sin, Fashen, DJ Homicide, DJ Earworm, DJ Benjamin Boom, and DJ Darku J.

 He has also performed at Pancakes & Booze Art Show, Lizard Lounge, Dacefestopia, Life In Color, Mystik Sanctuary Music Festival, Backwoods Bash Music Festival, Tulsa International Mayfest, Euphoria Music Festival, Breakaway Music Festival, Bright Nights Music Festival, Club One15, Electric Circus, Robotic Wednesdays, Frequency Nightclub, Evil Jive, Electric Boogie, Norman Music Festival, Lights All Night, Bonfires and Bass, and Kamps Lounge; along with headlining shows in Louisiana, Florida, Texas, and Oklahoma.
For his birthday, DJ Jonny Tsunami did a seven city tour in 2013. In 2014, he partnered with Dr. Plasticine for the Dreaded Tour — covering four music festivals and club gigs in between.
DJ Jonny Tsunami has been featured on Prime, EDRadio, SuperNova onBoom808Radio, 91.3 KSCL FM in Shreveport, LA, and Oklahoma's EDM Guide on Electroklahoma.
The Oklahoma Gazette has featured DJ Jonny Tsunami as a finalist for Best DJ in their Best of OKC in 2013 and 2014. He as also previously being ranked #1 DJ in Oklahoma City on Thumbtack and Reverbnation.
Booking: djjonnytsunamibooking@gmail.com or (918) 991-8546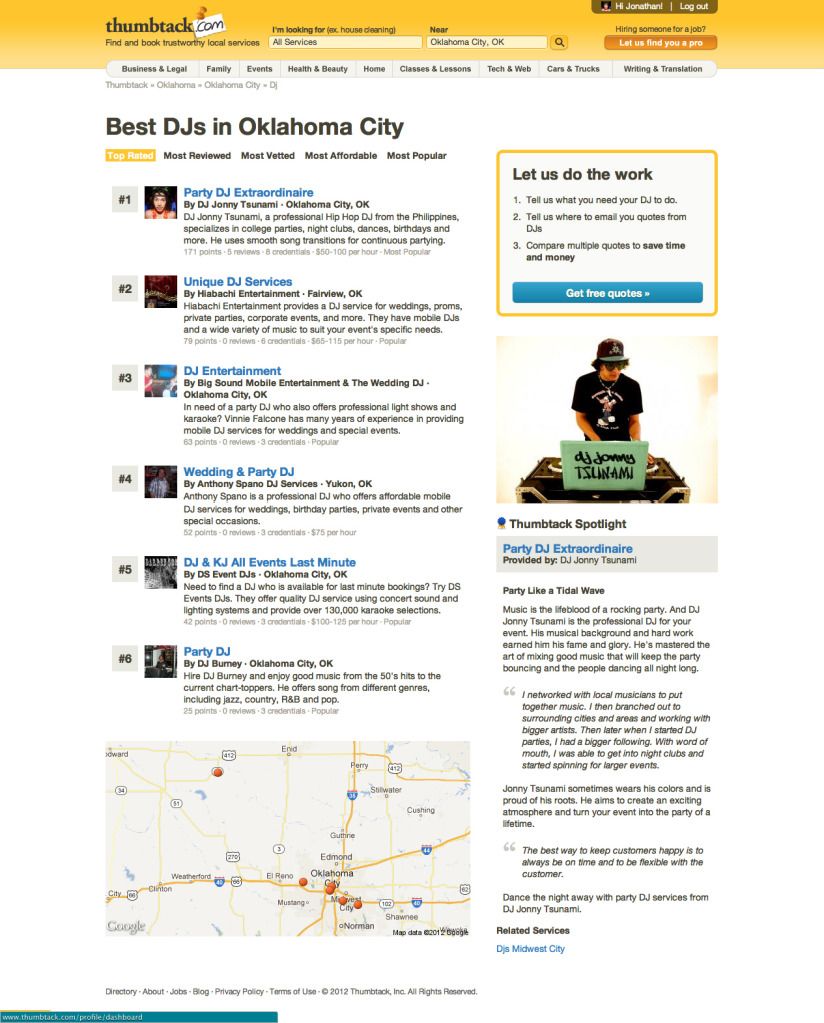 Click image to go to website.

Click image to go to website.